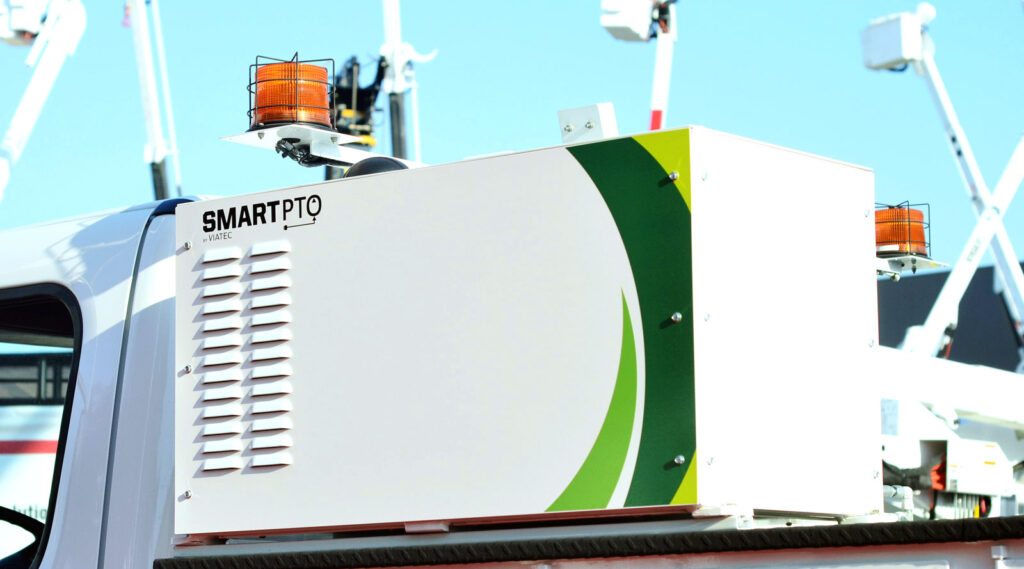 Canada's largest truck equipment supplier enters into Canadian master distribution agreement with greentech innovator for flagship electrohydraulic power-take-off equipment.
Aug 12, 2021 – Demonstrating its continued industry leadership in electric and hybrid solutions for the work and utility truck industries, Commercial Utility Equipment Co. is pleased to announce they have entered into a Sole Master Distribution Agreement covering the entirety of Canada with Viatec Inc. for their SmartPTO equipment.
Viatec's Smart PTO is the world's first fully electric, universal power-take-off unit that enables zero-emission worksites for work and utility trucks. This breakthrough solution powers all hydraulic functions of a work or utility truck including outriggers, aerial booms, and digger derricks while also providing power for auxiliary chassis accessories like lighting and optional in-cab HVAC without a running engine. A standard configuration is sized to supply power for a full workday, but higher capacity batteries are available, and by nature of its fully parallel system design, operators can continue working in the field by seamlessly reverting to conventional power-take-off for heavy-duty cycle days, or if the complete battery charge for SmartPTO is utilized.
"There are many exciting benefits to this technology. With our partnership and this equipment, we'll be able to make a real difference out in the field," said Morgan MacKay, General Manager of Commercial Truck Equipment. "We'll be helping to keep neighbourhoods quiet for residents during utility service and maintenance, we'll be reducing CO2 emissions, and even keeping workers safer. Idling engines are loud and when workers can communicate more clearly, there's reduced risk."
The SmartPTO system can be easily fitted to most new and in-service conventional utility and work trucks with simple hydraulic and electrical connections. Fully electric operation brings about many benefits in the form of reductions to engine wear and maintenance, fuel consumption, emissions, noise, jobsite risk, and operating cost. The system includes a touch screen that displays the control interface with settings, battery charge, system statistics like fuel saved, run time, and notifications such as temperature warnings. Available options include battery capacity upgrades, remote telematics, and level II fast-charging.
"We selected Commercial Utility Equipment to distribute our products in Canada because of their engineering capability, coast-to-coast reach, and their reputation for industry-leading customizations," said Anjali Deodhar, Vice president of Sales for Viatec Inc. "We're excited to have the increased visibility in the Canadian market that comes with this partnership."
Viatec Products are now available from Commercial Utility Equipment. Commercial Utility Equipment has equipment in-stock for immediate installation on new or existing vehicles, as well as demonstration vehicles available for evaluation.
For more product and sales information, please reach out to Mark Einarson, Product Manager – 1-800-665-6126
---